Touching tribute paid to RCMP Officer killed in the line of duty - Constable Jimmy Ng.
Richmond
2020-11-03 11:05 PST
On the evening of September 15, 2002 Richmond RCMP Constable Jimmy Ng was killed in the line of duty while serving the community of Richmond. In recognition of his service and sacrifice, the City of Richmond has announced they will be naming two streets after him.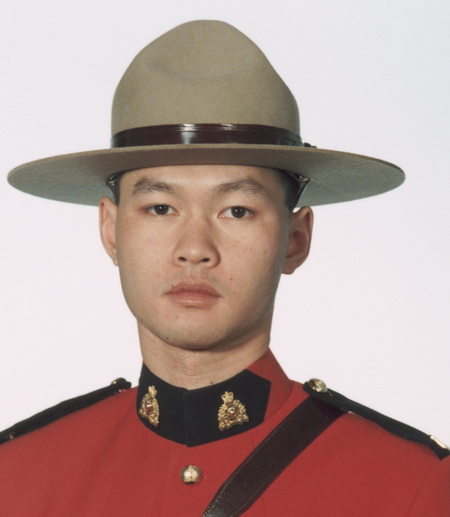 Download a large version of the photo here.

For all Richmond RCMP officers this tribute is very meaningful as it ensures the continual remembrance of an individual amongst our ranks who paid the ultimate sacrifice in service of his community. The significance of this is even greater for those who had the honour of serving with him.

One of Cst Jimmy Ng's coworkers reacted to the city's announcement saying I worked with Jimmy and was present at the scene where he was killed. I will never forget the radio call checking on his status and silence in return, and then the sound of the officer on the radio who first found him. I recall running up on the crash location and seeing a yellow stripe laying on the ground and following it up.

He went on to share Jimmy was a person we all looked up to as new officers as I was then, and his word was respected. For a senior officer to be taken from us that night made us all feel mortal. If it could happen to him.....

He is remembered by me as a corner stone of the C watch general duty team that we made up during those years and a role model and friend to all.

Jimmy was on duty, and responding to a call for service when he entered the intersection of No 3 Road and Williams, at which point he was struck and killed by a vehicle involved in a street race. The driver fled the scene, and was taken into custody after an exhaustive manhunt. The driver was later convicted, receiving a 2-year jail sentence.

Each day we put on our uniforms, we all know the potential risks we can face, says Superintendent Will Ng, Officer-In-Charge of Richmond Detachment, But knowing it and then having to live through it when an officer is killed in the line of duty are two very different things.

Our members and staff are incredibly humbled and grateful to the City of Richmond for this kind and thoughtful gesture, says Ng. Jimmy grew up in Richmond and was extremely proud to serve as an RCMP officer in his hometown. Jimmy always placed others before himself and was an active local volunteer with the Coast Guard Auxiliary in Steveston. This initiative will ensure that Jimmy's legacy of service is honoured and remembered.

Jimmy was sworn into the RCMP on March 18, 1996 and was posted to Duncan Detachment prior to returning to his hometown of Richmond. Jimmy was survived by his parents, the now late Doctor Chris and Therese Ng.

Jimmy attended high school in Richmond, as well as the University of British Columbia. Jimmy's final resting place is within the cemetery at Depot Division in Regina, Saskatchewan.


Released by

Cpl. Adriana Peralta

Media Relations Officer
Richmond RCMP
richmond.rcmp-grc.gc.ca
11411 No 5 Road, Richmond, BC, V7A 4E8
Office: 604-207-5189
Fax: 604-207-4716


Email: richmond_media@rcmp-grc.gc.ca

Follow Us: