Youth Section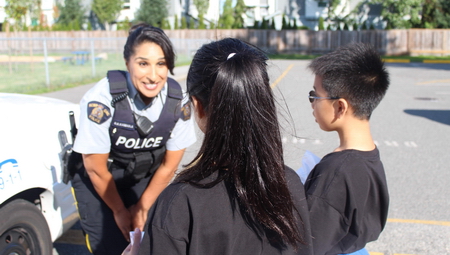 Youth officers are assigned to high schools and works with students at school during school hours, or to/from school. They are also often called to assist with investigations involving youth that occur outside of school hours. Members of the Richmond RCMP Youth Section are carefully selected from a group of interested applicants and remain with the section for a minimum of two years.
The Youth Section has a two-pillar approach when working with young people: education and enforcement.
Education: Youth officers teach D.A.R.E. (Drug Abuse Resistance Education) to every Grade 5 student in Richmond. Youth officers also make presentations to students on a variety of topics, including Policing, Law, Internet Safety, Gangs, Drugs, etc.
Enforcement: Youth officers work within the parameters of the Youth Criminal Justice Act to hold youth accountable for their actions. Young people who are caught breaking the law can be referred to the Richmond RCMP Youth Intervention Program where they receive either clinical counselling or participate in the Restorative Justice Program where they participate in a Community Forum. Repeat offenders or more serious offences are referred to Crown Counsel with charge recommendations.
Youth Intervention Program (YIP):
The Youth Intervention Program provides assessment, counselling and/or referral services to youth who are 17 years and younger who have been identified as having actual or potential conflict with the law and are referred by an RCMP member. For those referrals that fall under the Youth Criminal Justice Act, the police officer can make the decision to give the youth an opportunity to learn more productive and socially acceptable behaviours and to understand the consequences of continued criminal behaviour.
The goals of the YIP program are to:
Prevent the youth from committing further offenses
Assist the family with resolving any underlying issues which may be contributing to problematic behaviour.
Referral from the community, schools, and other agencies are accepted on a case-by-case basis. This program has been fully funded by the City of Richmond since 1980. Program staff have completed a Master Degree in Counselling Psychology. For more information, please call: 604-207-4900.
Richmond Restorative Justice Program
Restorative Justice consists Community Conference that bring together those affected by an incident where a child or youth has admitted guilt for committing a criminal offence. Conferences include the victims, offenders, their support persons, witnesses and the referring police officer. Trained facilitators assist the participants in building an agreement that addresses the harm, and holds the child or youth accountable for their actions.
This program has been coordinated by Touchstone Family Association since January 2004. For more information, please call: 604 279-5599.