Your Richmond RCMP
Who we are
(update pending 2021-04-13)
Your Richmond RCMP has been serving the community for over 60 years. We are the third largest detachment in Canada with a total of 227 Regular Members, supported by 2 Civilian Members, 85 full time City Municipal employees, serving an estimated population of 207,500. We're located in the Community Safety Building at 11411 No.5 Road, south of Steveston Hwy.
Strategic Priorities for the City of Richmond
Pedestrian Safety
Reduce Break and Enters & Thefts from Automobiles
Policing and Mental Health
Approved by the City of Richmond in 2015
Federal government contribution
The Federal Government cost shares 10% of Richmond's RCMP policing service. In fiscal year 2014/15 this amount exceeded $4M

What the RCMP brings to the table
Access to training and continuous learning. The RCMP trains and equips more than 18,000 RCMP police officers across the country. Training is constantly being improved to adapt to changing crimes and new legislation.
Internationally respected. Your RCMP officers are recognized as some of the best trained police officers in the world, and are regularly called by the UN and other counties to train other police forces.
They've seen it, solved it. RCMP officers have experience dealing with everything from earthquake response to riots. The RCMP led the successful security operations for the joint- forces 2010 Winter Olympics. They're innovators.
Richmond isn't alone. Thanks to the RCMP's structure, your Richmond RCMP officers have direct access to experts across the region and country. And, if there's an urgent problem, help is readily available from other Lower Mainland RCMP detachments.

Your Richmond RCMP's Personnel Breakdown
RCMP Regular and Civilian Members - City of Richmond
202
RCMP Regular and Civilian Members - Vancouver Airport
27
Municipal Employees
85
Volunteers
200
Auxiliary Officers
42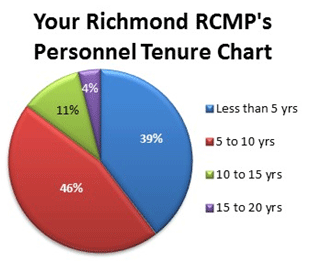 Who chooses the Chief RCMP Officer?
Mayor and staff are directly involved in the interview and selection process to determine who heads your Richmond RCMP. Chief Superintendent Will Ng is the current Officer in Charge.
Who's in charge of what?
Budgets, priorities and staffing levels – Richmond City Council
Police operations, training and assignment of staff – RCMP
How long do RCMP officers stay?
61% of Richmond RCMP officers have been in Richmond for at least 5 years, some up to 20 years.
New recruits to Richmond stay a minimum of 5 years, and other officers who come to the detachment may transfer after 3 years. Richmond is a desirable career option for RCMP officers.


Decision-making Authority: Setting the priorities, goals and objectives of your Richmond RCMP
Richmond RCMP completes a detachment Annual Performance Plan every fiscal year, which allows the RCMP to tailor our services according to the priorities set by the City of Richmond. Priorities support:
crime reduction
community policing
integrated policing
Community consultation is a key component. This takes place in part through the City of Richmond's Community Safety Committee. Richmond RCMP submits monthly reports to the Committee, available to the public in minutes online with the City of Richmond. Via these monthly meetings, the RCMP brings other issues to council's attention, such as:
Prioritizing areas for speed enforcement
New forensic trace technologies
Changes in crime patterns